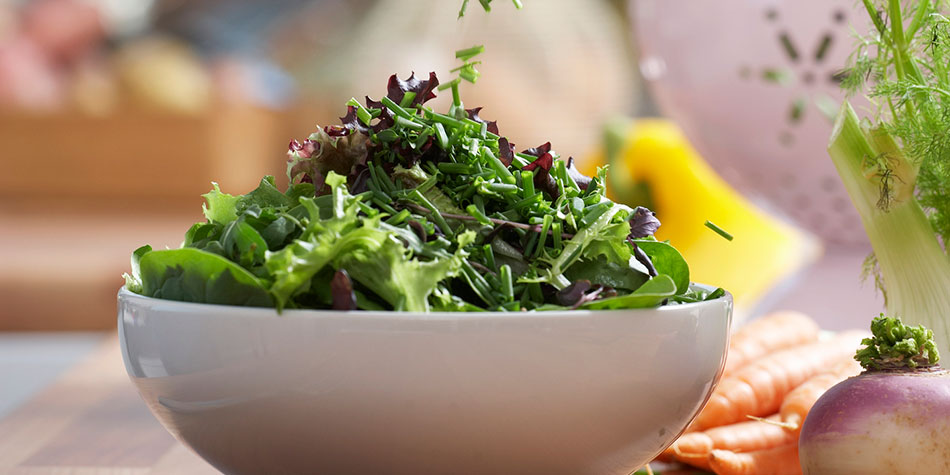 A fresh salad is the perfect quick and easy summer meal. It takes minimal preparation and fills you up without weighing you down. Plus, it's a great way to use the produce that's in season: Think juicy berries, refreshing melons and sweet peppers. Now that summer's in full swing, we're sharing our five favorite summer salad recipes that are sure to be a hit with you and your family.
Indian-inspired salad
Chicken salad can be high in fat and calories, but this curried chicken salad with grapes and walnuts is diet-friendly and packed with health benefits. Sweet grapes help keep your blood pressure in check. Crunchy walnuts are a good source of omega-3 fatty acids, which have been shown to reduce bad (LDL) cholesterol. And flavorful curry powder can help improve digestion.
Curried Chicken Salad
Serves 4
Total 10 minutes
Ingredients
| Ingredients | Measures |
| --- | --- |
| plain fat-free yogurt | 1 cup |
| grapes, halved, or 1/4 cup raisins | 1/2 cup |
| curry powder | 2 teaspoons |
| salt | Dash |
| walnuts (optional) | 1/4 cup |
| lettuce | 1 |
| chopped leftover chicken | 2 cups |
Directions
Mix yogurt with grapes or raisins, curry powder, and a dash of salt. (If you have any walnuts, toss in 1/4 cup.) Chop the lettuce, and place into each of four bowls. Combine the chicken with the yogurt mixture, and spoon on top of the beds of lettuce. Serve immediately, or chill until ready to serve.
Superfood salad
Want a light lunch that not only tastes great, but can also reduce your risk of several diseases? This spinach and strawberry salad is your answer. Eating spinach helps ward off certain eye problems, type 2 diabetes and cancer. The antioxidants in strawberries help protect against cancer, heart disease and other conditions. And pecans are among the best nuts for your health.
Spinach and strawberry salad with pecans
Serves 1
Total 20 minutes
Ingredients
| Ingredients | Measures |
| --- | --- |
| raw sliced strawberries | 1/2 cup |
| balsamic vinegar | 1/2 tablespoon |
| baby spinach | 3/4 cup |
| chopped pecans | 1/8 cup |
| olive oil | 1 tablespoon |
| salt (to taste) | 1 dash |
| stevia, vanilla flavor | 1 drop |
Directions
In a small bowl mix balsamic vinegar and stevia. Slowly whisk in olive oil. Season with salt. Refrigerate until ready to serve. Spread spinach on plate, top with strawberries and pecans. Drizzle with balsamic vinaigrette and serve.
Bold bean salad
This satisfying salad features a rainbow of healthy ingredients including mango, red bell peppers and corn. But black beans are the star here: They're packed with protein and fiber to help you feel full, plus nutrients that help lower your risk of colon cancer and heart disease. Learn more about heart disease. You can serve this salad right away or make the vegetable mixture up to a day ahead.
Black bean mango salad
Serves 6
Total 35 minutes
Ingredients
| Ingredients | Measures |
| --- | --- |
| mango, peeled, pitted and cubed | 1 |
| chopped fresh cilantro | 2 tablespoons |
| green onions, thinly sliced | 4 |
| medium red bell pepper, seeded and chopped | 1 |
| frozen corn, thawed or fresh corn off the cob | 1 cup |
| cooked black beans (1 cup dried) or 2 (15 ounce) cans black beans, no-salt-added or low sodium, drained | 3 cups |
| fresh lime juice | 3 tablespoons |
| minced fresh garlic | 1 teaspoon |
| dried oregano | 1 teaspoon |
| ground cumin | 1 teaspoon |
| chili powder | dash |
| chopped romaine lettuce | 9 cups |
Directions
If using fresh corn on the cob, steam for seven minutes or until tender, drain, cool and cut kernels off the cob, cutting close to the cob. Mix all the ingredients, except the lettuce. Allow salad to stand at least 15 minutes before serving. Serve on a bed of chopped green lettuce. The vegetable mixture can be made a day ahead and refrigerated. To do so, combine all the ingredients except the mango. Add the mango and a splash of lime juice just before serving.
Summer side salad
This vibrant salad with tender asparagus and ripe cherry tomatoes is loaded with important vitamins and minerals. It's rich in in vitamin C, which promotes a healthy immune system, vitamin B, which helps the body convert food into energy, and vitamin K, which is important for strong bones. Another bonus: It's only 57 calories per serving!
Tomato asparagus salad
Serves 6
Total 1 hour
Ingredients
| Ingredients | Measures |
| --- | --- |
| fresh asparagus, trimmed | 1 pound |
| romaine lettuce, torn | 8 cups |
| low fat Italian salad dressing | 1/3 cup |
| cherry tomatoes, halved | 12 |
| Parmesan cheese, shredded | 2 tablespoons |
Directions
Cook asparagus in boiling water for five to six minutes or until crisp-tender; plunge into ice water to stop cooking. Divide lettuce between six plates, arrange asparagus and tomatoes on top and drizzle with Italian dressing. Sprinkle with cheese and chill one hour before serving.
Tangy fruit salad
Regular fruit salad gets a sweet and tangy upgrade with the addition of honey and yogurt in this delicious recipe. It's also better for your health than plain fruit salad: Yogurt can help boost your immune system and aid in the absorption of essential nutrients. Serve it for dessert or bring it as a side for a picnic. At just 100 calories per serving, everyone will want to dig in.
Honey and yogurt fruit salad
Serves 6
Total 10 minutes
Ingredients
| Ingredients | Measures |
| --- | --- |
| lemon yogurt | 1 cup |
| honey | 1 tablespoon |
| lemon juice | 1 teaspoon |
| watermelon balls | 2 cups |
| cantaloupe balls | 2 cups |
| halved fresh strawberries | 2 cups |
Directions
In a salad bowl, whisk together the lemon yogurt, honey, and lemon juice until smooth, and gently fold in the watermelon balls, cantaloupe balls, and strawberries. Toss to coat, and serve.
---
This content originally appeared on Sharecare.com.