HCA West Florida's Behavioral Health Services program is a comprehensive network across Tampa Bay offering a broad range of services for anyone over the age of 17.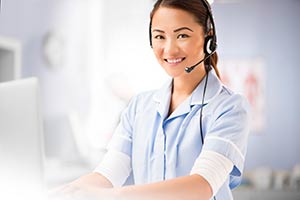 Connecting Medical Professionals to Mental Health Experts
Our Access Response Center provides one convenient number for 24/7 access to a licensed mental health professional.
We're here to provide:
Assessment in determining level of care needed
Assistance with patient placement
Community & provider resources
Call: (844) 423-4283
Fax: (866) 646-7779
A call or fax to the Access Response Center will connect you to all of our programs:
Inpatient Hospitalization
Intensive Outpatient (IOP)
Partial Hospitalization (PHP)
Electroconvulsive Therapy (ECT)
Support Groups
Geriatric Care
Addiction & Recovery Services
Community Resources
Hillsborough County Hotline: (813) 234-1234
Pasco County Crisis Line: (727) 849-9988
Pinellas County Helpline: (727) 210-4211
In a crisis, dial 2-1-1 for immediate assistance.
HCA Behavioral Health Services
Several of our hospitals offer behavioral health services where patients can receive the specialized care they need in a dedicated setting, with access to the medical services of a hospital. Brandon Regional Hospital, Citrus Memorial Hospital, Doctors Hospital of Sarasota and Memorial Hospital of Tampa offer programs for patients, 18 years and older, on their main campus. Memorial Hospital of Tampa also offers behavioral health services at its Tampa Community campus, Medical Center of Trinity at its West Pasco Campus in New Port Richey and Largo Medical Center's program is located at the Indian Rocks Road campus.