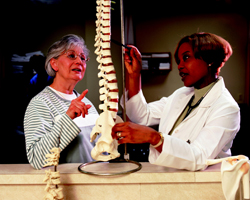 Back and neck pain are among the most common health problems in adults. Most episodes of back and neck pain are temporary, resulting from stress of muscles or ligaments that support the spine.
When basic treatments do not alleviate the pain, it's time to consider further evaluation.
Good Diagnosis is Key
Our emphasis is on proper diagnosis. The focus is on identifying the appropriate course of care for each patient.
Care and Comfort
We offer a seamless, full range of services:
physical therapy
pain management
latest surgical options: including minimally invasive neck and back procedures
Our inpatient unit offers the highest levels of amenities including:
private rooms
internet access
concierge services
Joint Commission Certifications for Spine Surgery
Blue Distinction Centers for Spine Surgery
The following HCA West Florida Hospitals have been named Blue Distinction Centers for Spine Surgery by the Blue Cross and Blue Shield Association and Blue Cross Blue Shield of Florida.
UnitedHealth Premium Spine Surgery Centers® for Spine Surgery
The following HCA West Florida Hospitals have earned this designation: